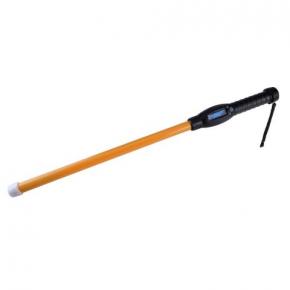 The Stick reader Intellibio is an electronic tag reader, meeting the need of domestic and international livestock management informatization. It's domestically initiated and reaches the international advanced level.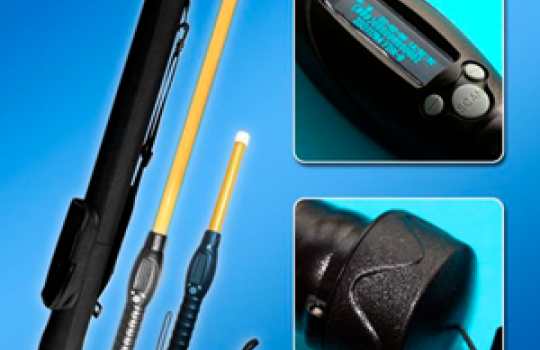 The Stick reader Intellibio has an unique design of stick antenna meets the actual demand. The shell is durable and reliable due to its high-strength material. It has large data storage and supports both USB and bluetooth data transmission. It can read all types of electronic tags that complied with the international animal identification standard.
The Stick reader Intellibio stick reader is conveniently used in breeding stock and dairy stock management, fat stock breeding, slaughter and so on. In animal identification, the reader can recognize the tag number automatically without contact or human intervention. It can ensure tag number's unique and counterfeit proof features with its mature, stable and unique design.
Two optional lengths of yellow antenna part: 46 cm and 25 cm
Reading standard: ISO11784/5 FDX-B and HDX, ID64
Reading distance: ear tag: 17 cm for FDX-B , 22 cm for HDX, Microchip: 9 cm
Guarantee: one year
Power supply : Battery: 4 AA
Working frequency: 134.2KHz/125KHz
Communication mode: bluetooth and USB
Package size: 79*10*10 cm
Screen: 128*32 OLED
Continuous working time: 12 hours
G.W. : 1330 g
N.W.: 532 g
System clock built-in
Buzzer built-in
Storage temperature: -30°C-65°C
Operation temperature: -30°C-50°C
Button number: 3
Data storage: 7000 records
Operation humidity: 5%~90%
Color: yellow/black
Accessories: packing stick barrel, USB connecting cable, antenna
| Reference | Description | Antenna length (cm) |
| --- | --- | --- |
| A-2210-00417 | Reader Stickreader | 25 |
| A-1802-00023 | Reader Stickreader | 46 |
+33 3 83 28 16 04