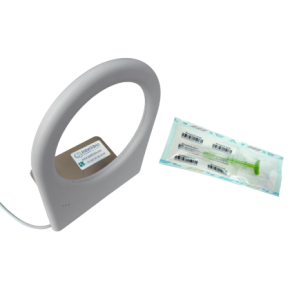 INNOVATION: UP TO 48 ALPHANUMERIC CODE CHARACTERS IN THE TAG.
Our Program Station reader, in addition to read the global ID number in all ISO 11784/11785 tags registered at ICAR, also allows you to write and read up to 48 alphanumeric characters.
At any time during your study, write, erase, rewrite, modify, add, lock data in the chip with the ProgramStation Player (even after the chip has been injected into the animal).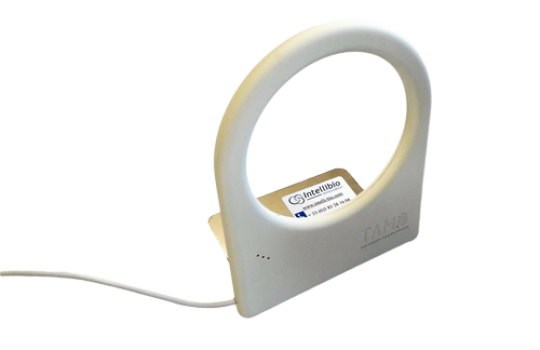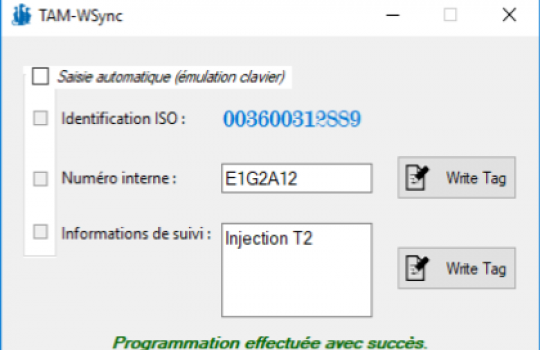 In collaboration with researchers, we have developed this new innovative reader that allows to read and write in the electronic identification tag.

In addition to read the worldwide unique number that meets the ISO 117484 and 11748 standards, it reads the information entered by the user and transfers it to your PC (Excel sheet or Word page).

The ProgramStation reader is only compatible with our electronic identification chips which have a memory broken down into two blocks:

-1st block: 8 characters for the name (or identifier) of the animal or any other data;
-2nd block: 40 characters any other data that the experimenter wants to record (study, animal, protocol...).

These two recordable blocks are adjustable at the convenience of the user. It is also possible to have only a single block. Many configurations are possible according to needs.
Writing in the chip is very easy and requires a computer. It can be done at any time: when the chip is still in its sterile bag and after when it is injected to the animal.
We offer 3 sizes of programmable chips:
- Tag TAM-S: 1.25 x 7 mm
- Tag TAM-M: 1.40 x 8 mm
- Tag TAM-L: 2.12 x 12 mm
+33(0)3 83 28 16 04