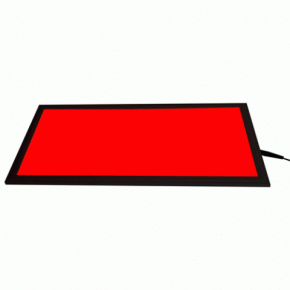 Red LEDs Panel Light which can be easily attached to the ceiling by different installation methods adapted to your needs.
Easy to install, both as original and aftermarket equipment.
2 sizes :
295 x 595 x 10 mm
595 x 595 x 10 mm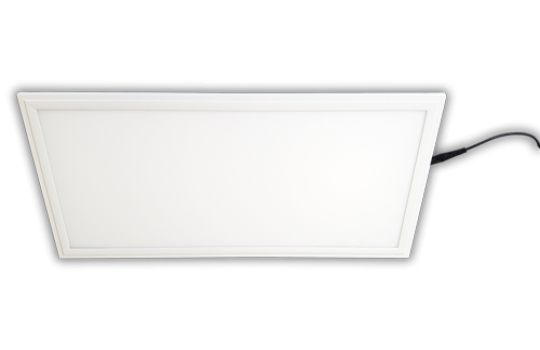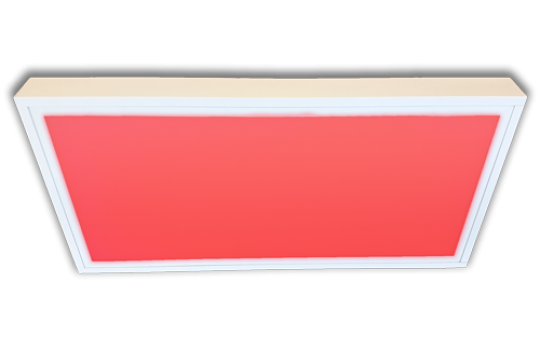 Ideal for pet stores and work rooms, you will be working under a red light with our Red LEDs Panel Light.
A safelight lamp emits a special light called " non-actinic safe-light ". It is a light that has little or no photochemical effects. Some species such as the rat and the mouse are insensitive to non-actinic lighting.
This type of lighting allows then to observe nocturnal species in activity without disturbing them.
To meet this need, we have developed a red LED panel with a slim design and a lacquered white frame and an perfect finish. Two dimensions are  provided: 295 x 595 mm and 595 x 595 mm. It emits a red light (wavelength of 625-630 nm) adapted to nocturnal animals.
It has an efficiency of 92 %, an IP55 protection rating and an estimated lifetime of 50,000 hours. It can be installed as original equipment in a suspended ceiling or as aftermarket on a ceiling by means of a protruding installation kit or a suspension kit.
With a 24 W or 36 W power according the model, it is delivered with a 0-10 V compatible driver for the adjustment of light intensity.
Methods of installation
1. Ceilling recessed mounted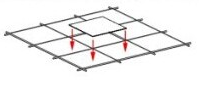 2. Suspending installation
3. Surface mounted with frame
2 sizes: 295 x 595 x 10 mm and 595 x 595 x 10 mm
Color: Red (625-630 nm)
Voltage: 100-240 V
Power: 24 W (model 295 x 595 mm) and 36 W (model 595 x 595 mm)
Type: LED
Driver: 0-10 V Compatible for the adjustment of light intensity, CE certified
Protection rating: IP55
Estimated lifetime: 50,000 hours
| Item | Description |
| --- | --- |
| A-1806-00055 | Red LEDs panel light 295 * 595 |
| A-1811-00095 | Red LEDs panel light 595 * 595 |
| A-1804-00045 | Surface mounted with frame kit for 295 * 295 |
| A-1810-00083 | Surface mounted with frame kit for 595 * 595 |
| A-1811-00096 | Suspending cable installation kit for 295 * 295 |
| A-1811-00097 | Suspending cable installation kit for 595 * 595 |
+33(0)3 83 28 16 04