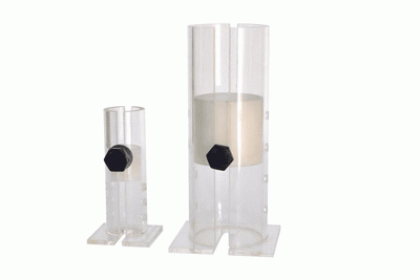 Restrainer device for rat and mouse with access to the tail for injection and sampling.
Immobilization of experiment animal is required in many pharmacological and physiological experiments. To satisfy this need, Intellibio has launched different categories of optimized animal restrainers. All rodent restrainers are manufacturerd from clear perspex materials to provide complete visual awareness of the state of your animal.
Broom Restrainers provide fast and easy animal insertion. The cylindral design of these restrainers solves the problem of the rodents turning once they are introduced into the restrainer. One side of restrainer is fixed with transparent tail piece (perspex plate) having a slot for tail while the oher side fitted with a Head piece (bush) having a smooth conical shape from inside for positioning the head of rodent. Head piece can be adjusted according to size of animal and tightened using the black colour knob.
Easy to use and access to the rodent
Safety for the animal handler
Reference
Animal Weight Range

Restraining ID

(internal Ø)

Length Min x Max (mm)
SAR15B
Mice15 g to 30 g
25
from 48 to 90
SAR30B
Mice/Small rat 30 g to 70 g
30
from 56 to 107
SAR70B
Rat 70 g to 125 g
40
from 57 to 131
SAR125B
Rat 125 g to 250 g
50
from 96 to 167
SAR250B
Rat 250 g to 500 g
65
from 126 to 185
+33(0)3 83 28 16 04