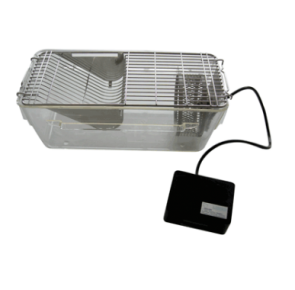 The mini activity wheel with counter is ideal for measuring the free and spontaneous activity of mouse in the home cage.
Available since 2005, many laboratories use these systems (battery of 4, 6 , 8, 12 or 24 systems). We propose two models.
Scientific interests
The mini activity wheel with counter in the home cage of the mouse allows the measurement of the spontaneous activity, counting the number of the wheel; for the distance traveled and speed.
These paradigms are particularly useful for:
The study of rhythms of activity and their deregulation
Ageing studies
Pharmacology (measurements before and after treatment), anxiety and depression
Temporal screening in all developmental models (environments pre- and post-natal, KO inducible, injuries ...)
Anxiety and depression
The cage is designed to facilitate the well-being of animals and reply to the research needs. The wheel of activity ensures a regular activity.
Cage for mouse: two dimensions: 332*150*130mm & 365*207*140 mm
Polycarbonate
Wire lid, bottle and pellet places
Standard stainless
Mini activity wheel made in stainless steel
Quickly adopted
2 diameters of wheel:
110 mm for cage 332*150*130 mm
120 mm for cage 365*207*140 mm
No bars: comfort with expanded metal wheel and a perforated flat surface draining the urine and faeces
Support wheel:stainless steel, do not mind the lid lock
No holes in the cage or lid
Sensor and magnet
Revolution counter with LCD with reset, battery include
Easy cleaning
Delivered assembled ready to use
| Reference | Description | Cage (mm) | Floor area (cm²) | ø wheel (mm) |
| --- | --- | --- | --- | --- |
| A-1908-00165 | Cage, mini activity wheel & counter | 332 x 150 x 130 | 335 | 110 |
| A-1807-00059 | Cage, mini activity wheel & counter | 365 x 207 x 140 | 530 | 120 |
+33(0)3 83 28 16 04