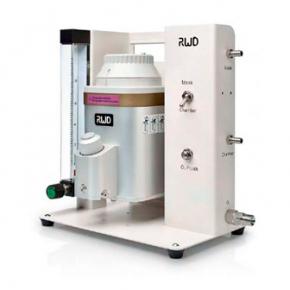 Multifunctional anesthesia solution suitable for small animals: rat, mouse, hamster, guinea pig, rabbit, cat and other animals up to 7Kg.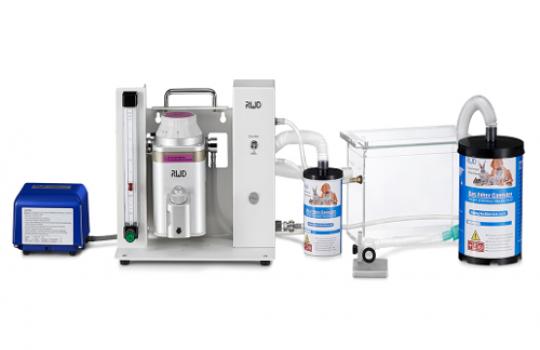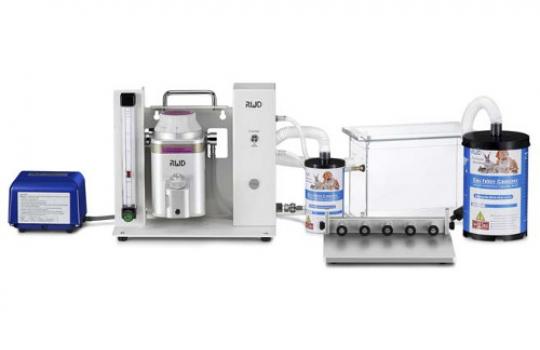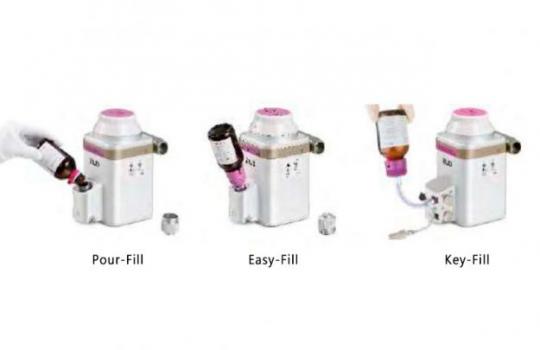 The system aims to provide a complete solution to small rodent anesthesia in the majority of procedures such as the development of animal disease models.
This anesthesia system is equipped with an active gas recovery system to create a safe experimental environment, which helps meet the needs of in vivo experiments while maximizing operator protection.
MRI version: For this solution, the concentric tube masks replacing the cone masks allow a more flexible position of the animals on the table and a wide field around the head of the animal, the most important being that the gaseous effluents associated with anesthesia are actively and safely removed.
The multi-function anesthesia solution includes a vaporizer, flowmeter, induction chamber, air pump, gas scavenger and cartridge.
Features:
The integrated temperature compensator ensures the concentration stability of the anesthetic gas at different temperatures and flow rates (0.2 to 10 L / min)
Anesthetic gas outlet pressure range △ P ≤ 2.5 kPa
Applicable temperature range: 10-35 ℃
Excellent sealing: the internal pressure of 50 kPa is stable
Internal capacity of 120 ml: the concentration range of isoflurane vaporizer is 0 to 5% (sevoflurane: 0 to 8%)
Anti-accident opening lock and protection on closing state to ensure safety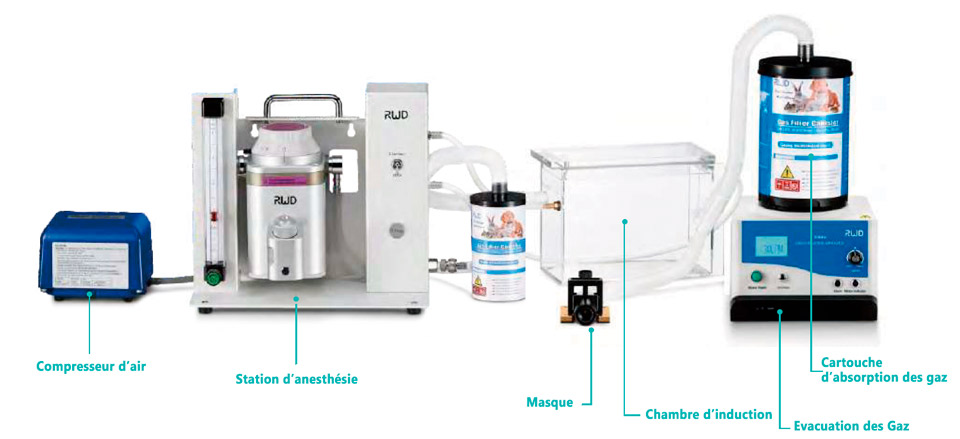 Anesthesia station :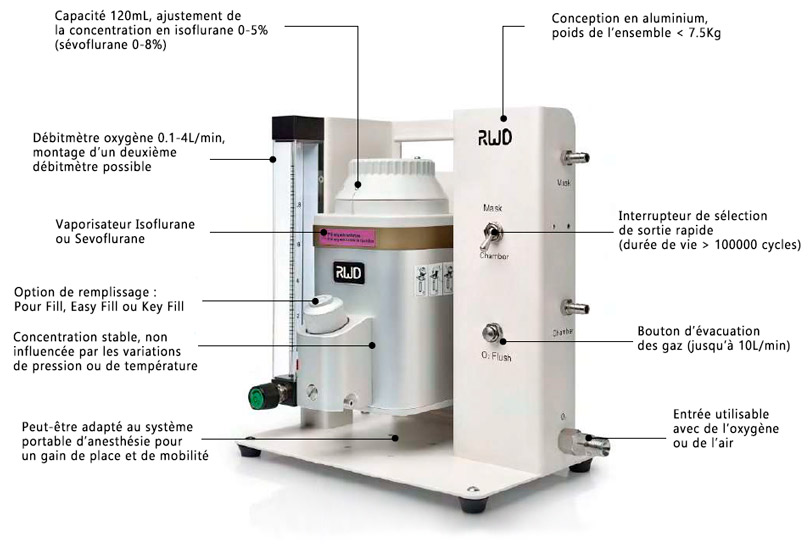 The inhalation anesthesia system include fellow items: 
1. Anesthesia air pump R510-29: The air pump can provide the air for the animal anesthesia machine. The new type of air pump developed by our company is of small size, and can provide large and stable air flow.,What's more, the mechanical noise generated by pump keep small which won't harm to ears. Furthermore, the pump can be used continuously for a long time. Hence, it is very suitable for use as a laboratory air source.
2. Compact Small Animal Anesthesia Machine R500IE:
Features:
Space-saving design, simple operation, flexible mobilization

Accurate oxygen flow meter, Flow control range: 0-1L/min and 0-4L/min available

Rotate the concentration control to precisely adjust the anesthesia concentration, Ensure output accuracy, Concentration adjustment range: isoflurane 0-5%, sevoflurane 0-8%.

120ml internal capacity of vaporizer, It is matched with automatic flow and temperature compensation function, Temperature range is 10-35℃, Above international standards.

Gas toggle switch, button switching gas path, more than 100,000 times of service life.

Stable concentration output. Independent of flow, temperature and pressure change.

Safety lock device to prevent accidental release of anesthetics.

Full inspection before delivery ensures the quality of each product.

Optional extended flowmeter to meet the experimental requirements for dual air source.

Quick oxygenation switch to remove residual anesthetic mixture in the tube or anesthesia induction chamber.

Oxygen or air can be chosen as gas supply.

Pour Fill or Easy Fill for adding drugs is optional.
3. Induction chamber for mouse V100:
The induction chamber, the most popular choice for investigators, is used for initial quick anesthetization of animals before surgery or that difficult to keep masked.when awake. The anesthetic gas is introduced into and routed chamber, and then exhausted trough one corrugated plastic flexible tubing to a charcoal canister included.
 1.Transparent plexiglass constructs for easy animal monitoring and powerful joints.
 2.Positive pressure of 11mm thick lid and seal strips eliminate chamber leakage.
 3.The repelling board to prevent the lid dropping- or breaking-off after opening.
sizes
| | |
| --- | --- |
| Cat No. | Product Description |
| V100 | Induction Chamber, Mouse, 15cm*10cm*10cm |
| V101 | Induction Chamber, Rat, 24cm*12cm*18cm |
| V102 | Induction Chamber, Cat/Rabbit, 40cm*18.5cm*25cm |
| V103 | Induction Chamber, Large Animal, 50cm*30cm*30cm |
4. Anesthesia mask for mouse R510-86:
This assembly allows multiple anesthesia for 1 to 5 rats or mice. Multi-animal breathers(Cat No.R510-54) can accommodate up to five mice or rats simultaneously, and its exhaust port runs to a scavenger system through one corrugated plastic flexible tubing (Cat No.R-CT-18).
This design saves cost and space while meeting the requirements of parallel experiments on multiple animals. 
Order Information:
| | |
| --- | --- |
| Cat No. | Product Description |
| R510-86 | SGL MRI Compatible Mask for Mouse |
| R510-88 | Dual MRI Compatible Masks for Mouse |
| R510-54 | Five-channel Tubing Anesthesia Mask Kits - rat/mouse |
| 68625 | MRI Compatible Mounting Bracket for Tubing or Cone Mask, optional |
| R510-32 | Mouse Mask-Dia.9mm-Evacuation System W/ SGL.Tube |
| R510-55 | Universal Stand for Tube Anesthesia Mask |
| R510-87 | SGL MRI Compatible Mask for Rat |
| R510-89 | Dual MRI Compatible Masks for Rat |
| 68626 | MRI Compatible Mounting Platform for Tubing or Cone Mask-rat/mouse |
| R510-33 | Rat Mask-Dia.18mm-Evacuation System W/ SGL.Tube |
4. Gas evacuation apparatus R546W:
 CE certification
The gas evacuation apparatus (GEA) was designed to safely and actively remove waste gas associated with everyday inhalation anesthesia. The waste gas from mask(s) like cone, concentric tubing and stereotaxic frame nosecone masks can be pulled through activated charcoal canister so that the air can be re-circulated into the room. The GEA will accommodate waste gas supply from at least 5 masks.
No venting hood is required while using.

 Powerful capture allows to accommodate waste gas supply from 1 to 5 masks.

The velocity of "pull" or "draw" can be adjusted depending on the stations (masks).

Great remove effectiveness to replace the traditional exhaust fan with remove ability less than 5g.

 With the smallest size about 215mm (W)*215mm (D)*170mm (H) in the market.

 Easy to use-simply connect to your vaporizer system and insert a activated charcoal canister.
★R546W, with the latest design of weighing, will be additionally used to weigh the activated charcoal canister at any time to check its saturation. Two levels alarm (990g and 1010g), indicator light and buzzer remind to change the canister and maintain it's effectiveness.
Order Information:
| | |
| --- | --- |
| Cat No. | Product Description |
| R546W | Gas Evacuation Apparatus with Weight Monitoring, 110-240V |
5. Gas filter canister(one box) R510-31-6:
Used to absorb isoflurane, sevoflurane and enflurane and other gases, disposable; large and small size are available, large canister (net weight: 800g) absorb 200-240g gas; small canister (net weight: 250g) absorb 50g gas.
Order Information:
| | |
| --- | --- |
| Cat No. | Product Description |
| R510-31-6 | Gas Filter Canister, Large, pkg of 6pcs |
| R510-31S-6 | Gas Filter Canister, Small, pkg of 6pcs |
Anesthesia device R500

| | |
| --- | --- |
| Reference | Designation |
| R500IE | Compact anesthesia device - Isoflurane, Easy Fill |
| R500IP | Compact anesthesia device - Isoflurane, Pour Fill |
| R500IK | Compact anesthesia device - Isoflurane, Key Fill |
| R500SE | Compact anesthesia device - Sevoflurane, Easy Fill |
| R500SP | Compact anesthesia device - Sevoflurane, Pour Fill |
| R500SK | Compact anesthesia device - Sevoflurane, Key Fill |
Note: Supplied with connection tubes for an induction chamber and a mask
Induction Chamber

| | |
| --- | --- |
| Reference | Designation |
| V100 | Induction Chamber - mice (15cm*10cm*10cm) |
| V101 | Induction Chamber - rat (24cm*12cm*18cm) |
| V102 | Induction Chamber - rabbit/cat(40cm*18,5cm*25cm) |
| V103 | Induction Chamber - big animals (50cm*30cm*30cm) |
Note: delivered with a 1.2m tube and a filter cartridge (model R510-31S)
Non-metallic concentric tube anesthesia masks

| | |
| --- | --- |
| Reference | Designation |
| R510-86 | MRI compatible mask for mice |
| R510-88 | Double MRI compatible masks for mice |
| R510-54 | Kits for five anesthesia masks |
| R510-87 | MRI compatible mask for rat |
| R510-89 | Double MRI compatible masks for rat |
| 68625 | MRI-compatible mounting bracket |
| 68626 | MRI compatible mounting platform |
Cone masks

| | |
| --- | --- |
| Reference | Designation |
| 68680 | Cone Mask with Tubing for Neonatal Mouse(<15g) <15g) - O.D=13mm I.D=5mm |
| 68681 | Cone Mask with Tubing for Mouse or Neonatal Rat (15-40g) - O.D=20mm I.D=10mm |
| 68682 | Cone Mask with Tubing for Rat (200-350g) - O.D=25mm I.D=15mm |
| 68656 | Manifold for Single Cone Mask |
| 68657 | Manifold for five Cone Masks |
| 68630 | Anesthesia Operation Platform |
Gas evacuation apparatus

| | |
| --- | --- |
| Reference | Designation |
| R546Pro | Gas Evacuation Apparatus with Weight Monitoring, 110-240V |
Gas filter canister

| | |
| --- | --- |
| Reference | Designation |
| R510-31-6 | Gas filter canister, high absorption capacity from 200 to 240g (Pkg de 6) |
| R510-31S-6 | Gas filter canister, small absorption capacity of 50g (Pkg of 6) |
Air pump

| | |
| --- | --- |
| Reference | Designation |
| R510-29 | Air pump |
+33 3 83 28 16 04