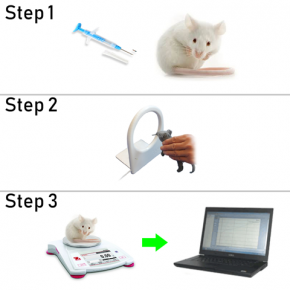 Identification coupled with the weighing of animals: a turnkey solution in 3 simple steps: Identification of the animal - Weighing and sending the weight to Excel - Collection and use of Excel data.
SAVING TIME, SPEED, RELIABILITY!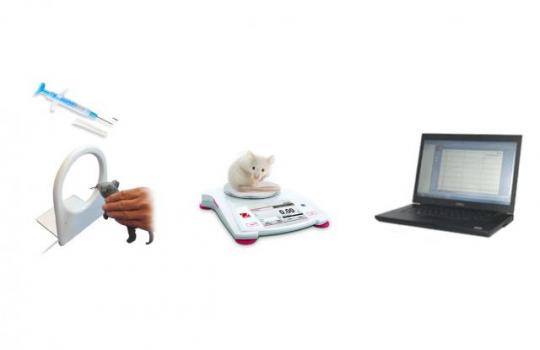 To simplify the weight reading of an animal identified with our TAM® chips thanks to direct interaction with your open Excel sheet, the TAMSync software performs an intelligent search allowing the recording of your animal's weight in the "Identification" cell. of the animal being weighed.
Step 1: Identification and transfer of the ID number to Excel
Identification of the animal with the TAM transponder Available in 3 sizes: TAM-S (1.25 x 7 mm) TAM-M (1.40 x 8 mm) TAM-L (2.12 x 12 mm) meeting the ISO standard 11784/11785 relating to the animal sector with a unique worldwide ID number readable by all readers on the market.
Transfer of the ID number to Excel via our ReadStation Intellibio fixed reader (photo) connected by USB to the PC.
Step 2: Weigh the animal and transfer the ID number to Excel
Scale connected to the PC to send the weight directly to the animal identification cell.
Step 3: Data collection and use in Excel
1. Automatic recording of ID numbers in Excel file
2. Search for the ID number read with automatic positioning on the Excel cell relating to the weight
3. Automatic sending of the animal's weight to the relevant Excel cell by virtual keyboard
RFID identification solution with weight statement including:
Scale
Portable precision laboratory balance
USB connection to PC
Portable laboratory balance, Ohaus brand, STX622 (modern and precise)
Weighing up to 620 g.
Other weights available: up to: 120, 220, 1200, 2200 * (specify if desired)
Precision: 0.001 g. (120 g.); 0.01 g (220, 420, ...)
Weighing dynamics
VGA color touchscreen information screen
GLP printing options (date, time, identifiers)
Weight: 1 kg.
RFID reader ReadStation
Static reader for continuous reading with a loop shape and stainless steel foot for perfect stability
USB connection
TAMSync Intellibio data transfer software
Step 1: Identification and transfer of the ID number to Excel
Step 2. Search for the ID number read with automatic positioning on the Excel cell relating to the weight
Step 3. Automatic sending of the animal's weight to the relevant Excel cell by virtual keyboard
| Référence | Description produit |
| --- | --- |
| A-1902-00120 | Turnkey ID / Weigh solution with ReadStation reader, mouse precision scale, TAMSync Intellibio software |
+33 3 83 28 16 04