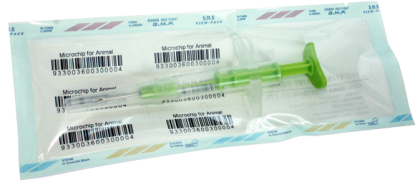 The Implantable Micro Animal Identification TAM® (Tracking & Monitoring) identifies your safely laboratory animals to meet research requirements and increase efficiency while combining comfort of personnel and improvement of animal welfare.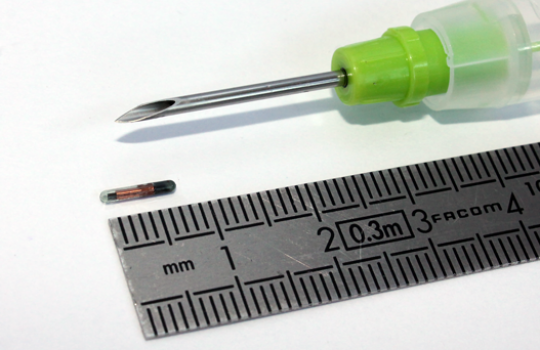 SCIENTIFIC INTERESTS
The electronic identification method is more and more used today.
It replaces tattooing, Eartag loop or other identification solution. Because of its reliability and simplicity, many users around the world rely on this method of identification.
Painless and quick, the act does not require anesthesia and lasts only a few seconds.
Practical solution because the code reads very easily: simply switching the chip reader, at the animal, allowing instant playback of remote code.
Reliable and unalterable, electronic identification is valid throughout the animal's life unlike other solutions identification (tattoo).
Secure and tamper-proof, it guarantees a unique code, which avoids confusion between two animals.
Electronic identification includes archives experimental results. The unique global identification number can be processed by computer as a tracking sheet (spreadsheet, compatible with the data processing software, with the pet management software).
In response to ethical issues, it is in line with international standards in the animal sector (ISO 11784/11785).
ASSOCIATED PRODUCTS
Reader TAM® RFID & Reader ReadStation
Delivered ready to use
Securely for long-term use
Non-irritating
Sterile assembly
Small Injector, practical and ergonomic
Short trocar
Small clip attesting to the ejection of the chip
Biocompatible glass bulb
Round Cap, no risk of injuring the animal
Meets the international standards ISO 11784/11785 and animal sector ICAR.
Read Performance (8-10 cm depending on the reader)
6 self-adhesive bar code labels which allow various uses (tracking sheets, notebooks, identification of the cage)
Reliability, safety and ease of use
| | | |
| --- | --- | --- |
| Item | Description (Ø x L) | Needle (in gauge) |
| Intellibio TAM-S |  1,25  x 7 mm | 16 G |
| Intellibio TAM-M |  1,40 x 8 mm | 15 G |
| Intellibio TAM-L |  2,12  x 12 mm | 13 G |