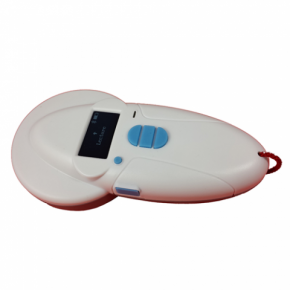 Portable RFID Bluetooth Reader is an innovative, new rodent identification reader designed to reliably identify mice for genotyping, experimental procedures, or treatment or all others animals.
Less error, saving time, security, reliability in your research with the electronic reading of the identification chip implanted in the animal.
The reader is able to catch data from transponder FDX B (ISO standard), FDX A (Destron, AVID, AEG), HDX (Texas Tiris) and EM4102.
TAM-Sync Synchronization Module
With this interface module, you read the identification number of the chip implanted in your animal and this number is then sent directly in the input field concerned, either on your Excel sheet, your Word document or your pet software.
Interface
Communication Interface
USB / Bluetooth
Power Supply
Rechargeable internal battery
Rfid Supported Chip
Standard ISO 11784/11785 (134,2 Khz)
FDXB (ISO11784) - FDXA (Destron, Avid, AEG) - HDX (Texas, Tiris) - EM4102 Unique
Other Features
Display
Display with 2 rows x 16 characteres.
Reading Distance
8-10 cm transponder FDXB
Internal Memory

Memory function: Storage capacity up to 999 readings transmitted to a PC or PDA via USB cable (supplied).

Weight
140 g
Dimensions
L:155mm, H:80mm, P:33mm
Regulations
CE
Item
Description
A-1801-00008
TAM® Portable RFID Bluetooth Reader TAM-Sync. with
Keyboard emulation module for the transfer of the identification number to the PC
+33 3 83 28 16 04