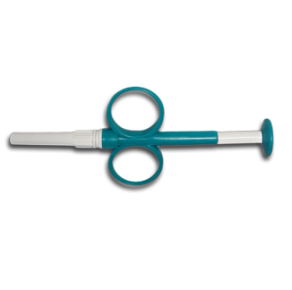 Set consisting of a sterile injector and a 2.12 x 12 mm transponder for identification and temperature reading of animals.
Display of the animal's ID number and temperature.
In accordance with the international standards in force in the animal sector (ISO 11784/11785), the chip with temperature reading has a unique worldwide ID number readable by all readers and it gives the temperature of the animal in degrees Celsius and Fahrenheit.
Main Features
Supplied ready to use in sterile sachet for single use
Supplied with 3 self-adhesive barcode labels for various uses (monitoring sheets, entry / exit notebooks, cage identification, etc.)
Reliability, security and ease of use
Compliance with ISO 11135 and 11607 sterility standards relating to the sterilization of medical devices
Transponder
TransponderISO FDDX-B
Worldwide unique ISO number (ISO 11784/11785)
Temperature measured from + 33 ° C to + 43 ° C
Ø 2,12 x 13 mm
Readable by the dedicated reader with display of the ID number and the temperature in degrees Celius and degrees Fahrenheit 
Biocompatible glass
Unlimited duration (lifespan of the animal)
Very good reading performance
Injector
Short needle(gauge 14)
Ø exterior 2,6 mm
| Référence | Désignation | Dim. | Aiguille (Gauge) | Ø  Aiguille |
| --- | --- | --- | --- | --- |
| 1902-00121 | Puce ID avec relevé de température | 2,12 x 13 mm | 14 G | 2,6 mm |
+33 3 83 28 16 04