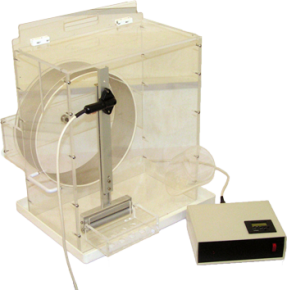 Cage with programmable food access and activity wheel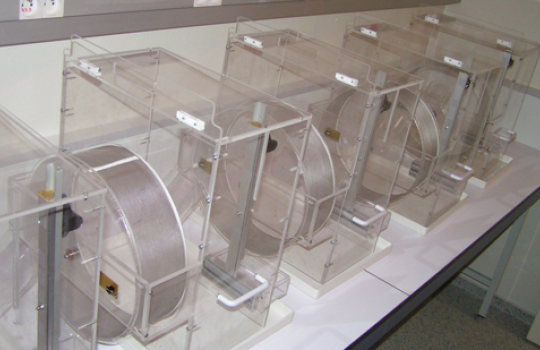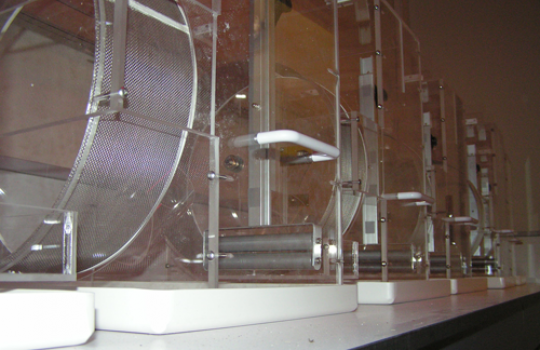 Scientific interests
When food availability is restricted, animals adjust their behavior according to the timing of food access.
This cage provides researchers with the means to regulate access to the food hopper by programming the opening and closing time of the food access panel using a control unit.

This access panel, composed of solid aluminum coils, raises or lowers through a silent lever system, allowing or blocking the animal's access to the food hopper.
Obesity, Nutrition, Food Intake, Circadian Rhythms
Presentation
Individual  cage for rat or hamster equipped with an activity wheel. The exact time of opening giving access to the food is programmed with a manual control unit easy to use .
The access door is rising or falling by a silent lever system.
Main features
Altuglas cage (interior dimensions:38 x 22 x 43 cm (L x W x H).
30 cm diameter running wheel, in stainless steel.
Rotation sensor (one pulse per turn).
Removable cage base tray (easy cleaning).
Cage top with hinges.
Integrated water bottle holder and food hopper.
Silent food hopper access panel movement.
No risk of injury to the animal.
Control unit (for 6 cages).
Very easy setup.
Display of control interface in PC software program.
Recording of number of wheel rotations by software.
| | | |
| --- | --- | --- |
| Item |  Description | Available |
| 2101 |  Cage with programmable food access and activity wheel | Rat/hamster |