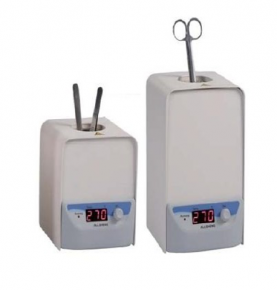 High temperature sterilizer (up to 300 ° C) for fast (5 seconds) and efficient sterilization of all your small solid glass or metal instruments, ensuring that tools are free of pathogens and microbial contaminants.

2 models available for long or short instruments (150g. and 300g. weight of intruments).
Our sterilizer uses high temperature glass balls, fast sterilization of small experimental equipment.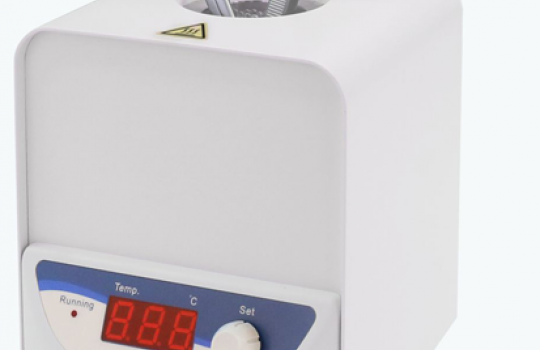 The sterilizer provides an efficient and practical method for sterilizing your surgical instruments before and during surgery.

The temperature can be adjusted from 100 ° C. at 300 ° C., using the adjustment button on the front panel, which makes it possible to sterilize instruments other than metal or glass.
It can effectively sterilize small solid metal and glass instruments within 10 seconds, ensuring the tools free of pathogens and microbial contaminants. A large OLED screen indicates the selected temperature.

Thanks to its high temperature glass micro-beads, the highest temperature of 300 ° C. is reached in 25 minutes.
Features
Model N°
A-1902-00122
A-1902-00123
For
Short instruments
Long instruments
Well size
40 x 80 mm
40 x 140 mm
Capacity
150 g.
300 g.
Temperature Rang
100 °C - 300 ° C
100 °C - 300 ° C
Accuracy

≤ 

± 5

°C

≤ 

±

  5°C
Time to Reach maximum Temperature

≤ 25 min

≤

  25 min
Power
 120W

250W

Weight
2 kg
2.5 kg
Unit Size
130x145x155 mm
130x145x215 mm
Delivered with

Micro-beads 

Micro-beads 
CAT NO.
Product Description
A -1902-00122

 Adjustable Temperature Sterilizer

150 g. Glass Bead Sterilizer - 4 x 8 cm for short instruments

A -1902-00123

Adjustable Temperature Sterilizer

300 g. Glass Bead Sterilizer - 4 x 14 cm for long instruments

 A-1904-00130
 

Micro-beads for sterilizer (per 150 g.)